Free Dundee Delivery
If you live in the local Dundee area, we offer a free delivery service on Monday, Wedneday and Friday between 5pm and 8pm in the evening.

Your delivery address must lie within the Dundee postcode areas of DD1, DD2, DD3, DD4 or DD5 to qualify. Please see the map below for all local areas we cover on our deliveries.

Your order must total a minimum of £20 to receive free Dundee delivery, if your order is under £20 you will be charged £2.50 delivery.

To get your delivery please make sure you select location as "Dundee, cotland" and then choose "free dundee delivery" as your delivery method at the checkout. Your order will then be delivered on the next available delivery day (Mon, Wed or Friday).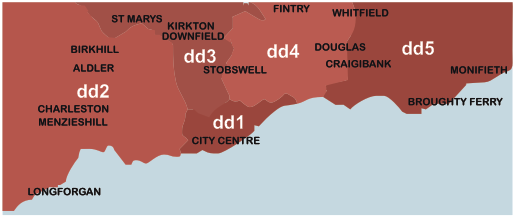 If you want to collect your order from our warehouse you can do this also. Simply select location as "Dundee, Scotland" and then select "warehouse collection" when at the checkout.